How the Value Trade Has Been Smoked by the AI Frenzy
As fast as it went up for value managers, it's coming down. The culprit is the all-consuming craze for artificial intelligence.
Proponents of the buy-cheap philosophy have been battered by the relative performance of tech stalwarts, resulting in a mirror image of 2022, when value stocks had their best year versus growth since the dot-com crash. In one example, a Russell 1000 subindex housing the likes of energy producers and banks is trailing a counterpart pegged to growth stocks by the most in more than two decades.
It's still early, but the reversal, happening at an unprecedented rate, is creating pain among those hoping for a lasting renaissance in the time-tested strategy of value investing. Cheap-looking firms are taking lumps amid financial turmoil and uncertainty about the economy's future just as AI breathes fresh life into computer and software stocks, an industry that dominates the growth style.
"It was a shorter run than I would have anticipated," said George Cipolloni, portfolio manager at Penn Mutual Asset Management LLC, referring to value's leadership. "Now, sentiment is clearly in growth's favor."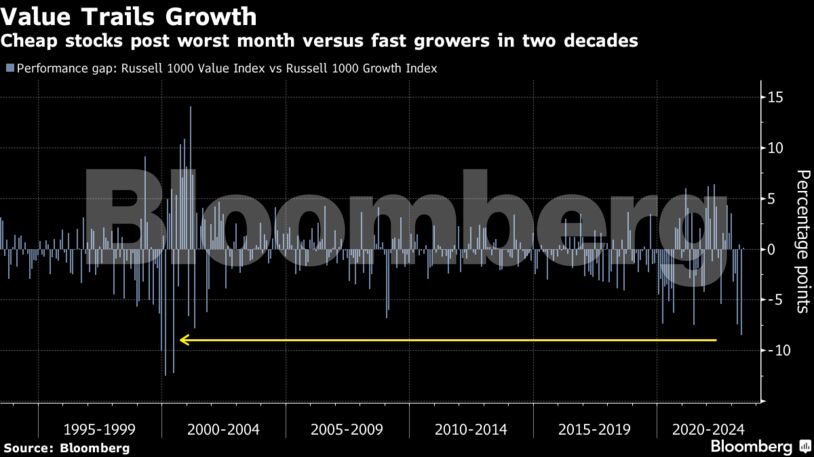 The S&P 500 advanced for a third week in a row, powered to the brink of a bull market by a handful of tech behemoths such as Nvidia Corp., Alphabet Inc., and Microsoft Corp. The Nasdaq 100 jumped 1.8%, capping a sixth straight weekly gain.