Investors Seek Shelter in Emerging Markets as Recession Risk Hits US
Investors are planning to ramp up bets in emerging markets, according to the latest Markets Live Pulse survey — a sign the asset class is becoming a favorite for those wary of a US recession.
Some 61% of the 234 money managers, analysts, and traders surveyed said they expect to increase exposure to developing assets in the next 12 months, even as concern mounts about a potential downturn and the Federal Reserve's path ahead. The asset class, they say, stands to offer shelter if the central bank's fight against inflation tips the US into a recession.
"Economies in the developing world are far more resilient places today than they were 30 years ago, and EM central banks have been largely more responsible in dealing with the rise in inflation than the developed world has been," said Justin Leverenz, who manages the $26 billion Invesco Developing Markets Fund, one of the world's best-performing major emerging-equity fund this year.
"There is significant value across the emerging-market landscape," he said. "Over the last 10 years, not only have EM economies become more resilient, they have been almost entirely neglected by global investors."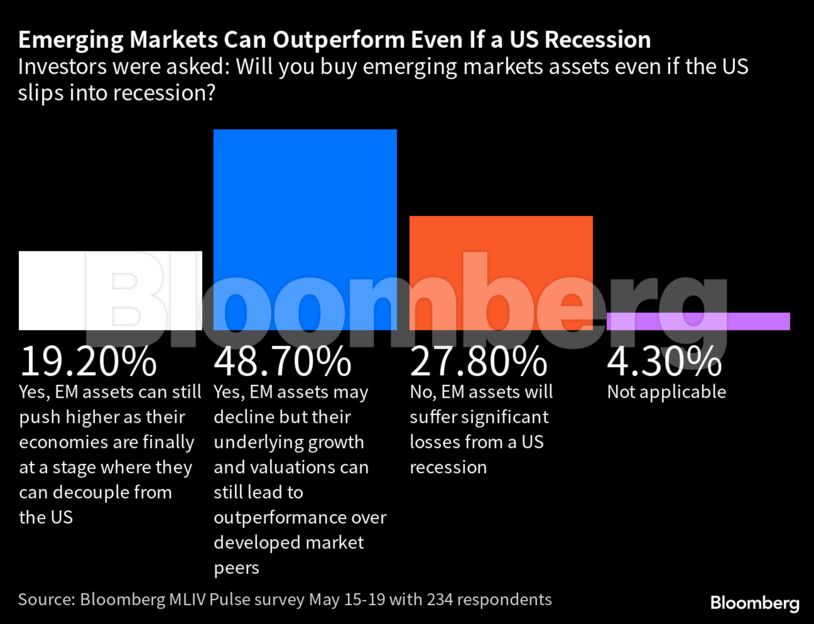 Some 49% of the survey respondents said that even if a US recession causes a decline in emerging assets, their underlying growth and attractive valuations will still help them to outperform mature peers.
Malcolm Dorson, a money manager at Global X Management in New York, also said emerging markets are better-positioned than major economies in the wake of the pandemic. That's helping certain developing nations to avoid the same type of policy and stimulus hangover threatening the US and Europe.
"We see the potential for underlying growth to improve for EM, valuations are cheap, and EM's long-term attraction remains undiminished," said Devan Kaloo, global head of emerging markets at Aberdeen Plc.
Favored Assets
That relative outperformance, the survey shows, will likely come from stocks. Some 41% of survey respondents said equities were the best emerging-market investment pick over the next 12 months.
At least some of that optimism comes down to relative opportunity. The MSCI Emerging Markets Index is up just 2.2% so far this year, compared to a 9.2% gain in a similar gauge of developed-market shares.
"We need emerging economies that can sustain reasonable levels of potential output and businesses that can create value," said Lewis Kaufman, whose $3.7 billion Artisan Developing World Fund has outperformed 99% of US-based peers so far this year.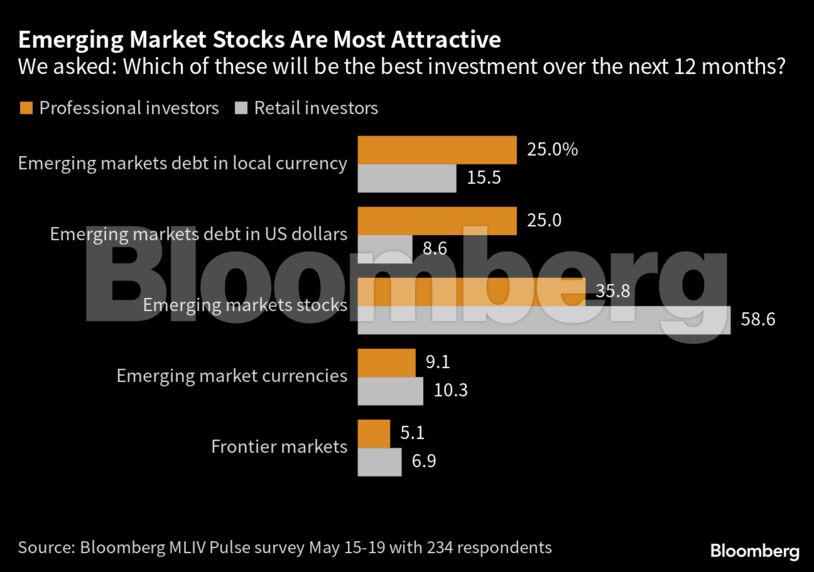 On a geographic basis, respondents also rallied around opportunities in Southeast Asia. A majority of those who answered said the region's assets would provide the best returns in emerging markets on a two-year basis.
"Southeast Asia is one of the best places to be for long-term investors," said Aninda Mitra, a macro and investment strategist at BNY Mellon Investment Management in Singapore. "There's a track record of sound macro management, better demographics, and a steadily rising flow of foreign direct investment."
Growth there is seen normalizing as China's economy reopens and manufacturing expands, according to Alexander Davey, global capability head for active equities at HSBC Asset Management. Goldman Sachs Group Inc., meantime, pointed to opportunities in bank stocks from Thailand.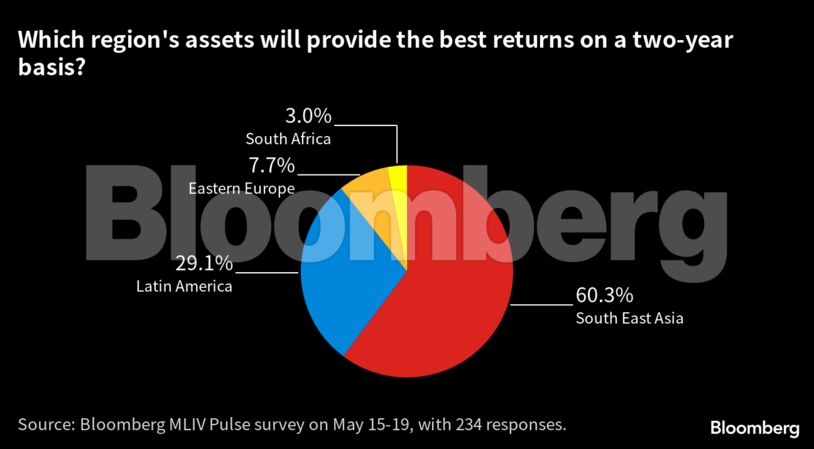 Of those who answered Bloomberg's survey, which ran from May 15 to 19, about 65% were based in Europe or North America. Some 19% said they were based in Asia. The majority of respondents identified as portfolio managers, retail investors, or strategists.
MLIV Pulse is a weekly survey of Bloomberg News readers on the terminal and online, conducted by Bloomberg's Markets Live team, which also runs a 24/7 MLIV Blog on the terminal.
What to Watch
Turkey's central bank is likely to hold its one-week repo rate at 8.5%, according to Bloomberg Economics, ahead of the nation's runoff election on May 28. The lira weakened as much as 4.1% to a record 20 per dollar early Monday, before paring losses
South Africa's central bank is widely expected to raise its key rate, while Indonesia's central bank is expected to keep its policy steady
Brazil's mid-May CPI print will likely show inflation is resilient, according to Bloomberg Economics

Traders will also watch for a possible lower house floor vote on the new fiscal rule

In China, commercial banks will likely keep loan prime rates steady after the People's Bank of China held its own key rate
Singapore and Malaysia will release inflation reports
A message from Advisor Perspectives and Vetta Fi: To learn more on this and other topics, check out our full schedule of upcoming CE-approved virtual events.
Bloomberg News provided this article. For more articles like this please visit bloomberg.com.