Friday Is Now an Options Feeding Frenzy as Big Tech Meets Zero-Day Options
An end-of-week feeding frenzy in options of the world's biggest companies has emerged as two of the hottest trends on Wall Street collide.
Rampant demand for Big Tech exposure is combining with the boom in fast-expiring options to fuel an explosion in bullish bets in the first few minutes of Friday trading. That's the day that weekly contracts on individual stocks like Apple Inc. and Microsoft Corp. expire, effectively turning them into the zero-day options that have become a trader obsession.
Total call volume of the seven most-valuable tech firms — also including Alphabet Inc., Amazon.com Inc., Nvidia Corp., Meta Platforms Inc., and Tesla Inc. — last Friday spiked to 5 million contracts, doubling over the week, according to data compiled by Bloomberg. So frenzied is the late-week demand that some analysts see evidence it is moving the underlying stocks.
"Friday should be known as mega-cap tech call option day," Brian Garrett, a managing director at Goldman Sachs Group Inc., wrote in a note last week. "There have been days where hundreds of thousands of calls have traded in the first 10-15 minutes of the session."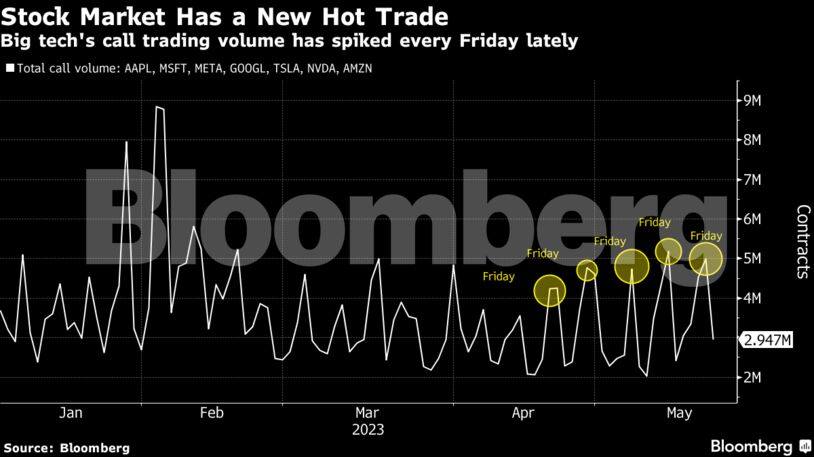 Friday is set to be another busy session for Nvidia options after the stock surged as much as 26% on a robust sales forecast and traders flocked to the near-dated contracts. Less than an hour into Thursday's trading, 1 million contracts changed hands, exceeding the average volume in the past 20 full sessions. All but two of the chipmaker's most-traded options are maturing by Friday.