Palantir's AI Surge Hardens Resolve of Stock's Bears
Few stocks have better embodied Wall Street's frenzy around artificial intelligence lately than Palantir Technologies Inc.
After a rough couple of years, the shares more than doubled over a six-week period from the beginning of May, reaching their highest since January 2022, as investors latched onto comments that demand the company's new AI tool was "without precedent." Chief Executive Officer Alex Karp subsequently said AI tools represent "an infinite market."
Yet while optimism about the data-analysis software company's position in this field has caught the eye of retail investors, the stock's gains have only hardened the resolve of skeptical analysts and fund managers.
The consensus recommendation — a proxy for its ratio of buy, hold, and sell ratings — stands at 2.41 out of five, by far the lowest among the 62 components of the Russell 1000 Software Subsector Index. Nearly half the analysts who track the stock have the equivalent of a sell rating, compared with fewer than 20% who recommend buying.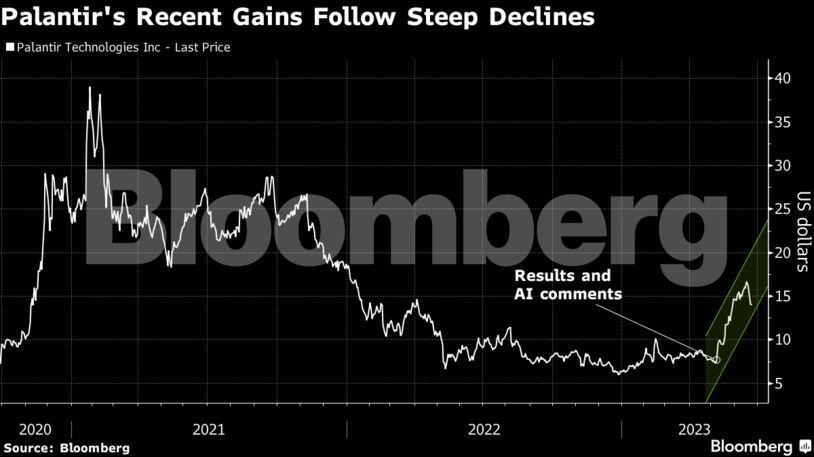 Hendi Susanto, portfolio manager at Gabelli Funds, said skepticism is warranted for AI plays more broadly, especially ones that have seen sharp rallies.
"The market is in-between on how much of this is hype, and how much is real," Susanto said. "Palantir has a strong focus on its end markets, but it is too early to have a conviction on whether its AI roadmap will enable it to reach wider adoption. Some investors may have gotten detached from fundamentals and ahead of themselves."
Raymond James downgraded Palantir last week, saying the recent strength coupled with a premium valuation "make finding a catalyst more challenging in the near term."
Goldman Sachs Group Inc. analysts say that while AI is a tailwind, it's just "an extension of Palantir's existing work in the data analytics stack, rather than a step function change in product strategy or adoption." The broker also has questions about the company's strategy for monetizing the technology.
Palantir is 29% above the average analyst price target, making for the weakest return potential among components of the software index. It also boasts a pricey valuation, with the shares trading at more than 60 times estimated earnings. Nvidia Corp., the chipmaker at the center of AI enthusiasm, has a multiple below 50, even after nearly tripling this year.
Retail investors, at least, aren't deterred. According to a June 22 report from Vanda Research, Palantir was number 10 among stocks purchased by retail investors over a five-day period, ranking the company ahead of Microsoft Corp. and Netflix Inc.
Even after giving back 15% of its gains over the past five trading sessions, the stock remains nearly 90% above a May low. However, it's still more than 60% below its peak of early 2021 when the stock was flying high following a September 2020 direct listing.
Bulls can take comfort from analysts' estimates for future growth. Revenue at Palantir is expected to rise 16% this year and accelerate over the following three, hitting a 35% pace in 2026. Net earnings per share and free cash flow are also expected to improve in the coming years.
Tim Pagliara, chairman and chief investment officer at Capwealth Advisors, cited the company's commitment to being cash-flow positive as a reason why he's positive on the stock, though he stressed it will be a risky and volatile holding.
"This should not be a foundational investment in a portfolio, but I see a lot of opportunity for long-term investors who have the discipline to manage the ups and downs," he said. "There are massive opportunities out there for its software, and I think it is on a trajectory to meet them."
Tech Chart of the Day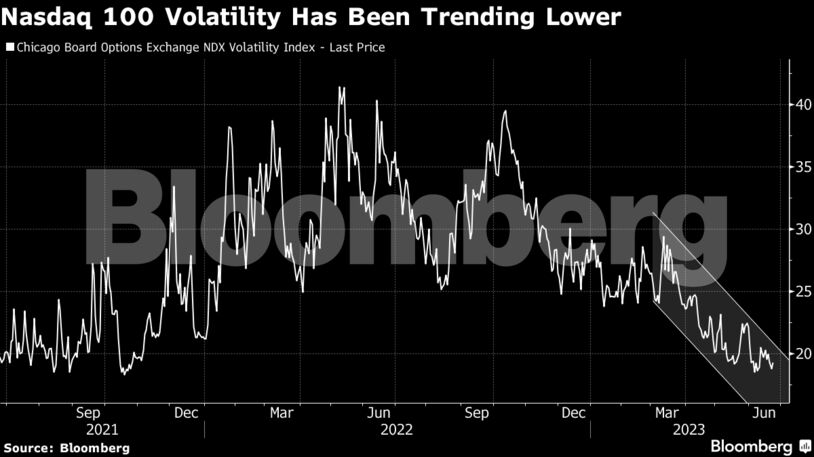 An air of relative calm is descending for major technology and internet stocks. The CBOE NDX Volatility Index is down 34% from its March peak, and earlier this month hit its lowest closing level since October 2021. The gauge last closed at 19.3, compared with its 10-year average level of 21.4.
Top Tech Stories
International Business Machines Corp. is in talks to buy software company Apptio as part of a deeper push into automation technology, according to people with knowledge of the matter.
Tesla Inc. shares declined in US premarket trading after the automaker was downgraded to neutral from buy at Goldman Sachs, which flagged the substantial surge in the stock as well as the difficult pricing environment for new vehicles.
Amazon.com Inc. and Alphabet Inc.'s Google are committing to ramping up investments in India as the tech giants seek to spur growth in a key market.
A group of lenders led by Apollo Global Management Inc. is providing as much as $2 billion to Wolfspeed Inc. to support the semiconductor maker's expansion in the US, according to a statement seen by Bloomberg.
After debuting the Vision Pro, Apple Inc. is working on finishing up the device's software, expanding testing, and finalizing the rollout strategy. But it has plenty of other pressing business at hand: readying the next iPhones, iPads, Apple Watches, Macs, and more.
JD.com Inc. aims to create an independent unit by merging its 7Fresh supermarket chain with other online services, establishing a retailer of fresh food and groceries that serves millions nationwide.
Alibaba Group Holdings Ltd. plans to seek approval within the next two weeks for a listing of its grocery arm on the Hong Kong stock exchange, Hong Kong Economic Times reported, without saying where it got the information.
US regulatory uncertainty surrounding Ether is seen by some market observers as damaging the token's performance compared with a recent rally in Bitcoin.
A message from Advisor Perspectives and VettaFi: To learn more on this and other topics, check out our full schedule of upcoming CE-approved virtual events.
Bloomberg News provided this article. For more articles like this please visit bloomberg.com.