Survey Shows Importance of Personalized Approach to Retirement Planning
Franklin Templeton's 2021 US Retirement Income Strategies and Expectations survey revealed financial-related concerns across generations of Americans including health care, inadequate savings, and debt management—and the need for a personalized approach to retirement planning. Our Sean O'Malley discusses some of the findings of this year's survey, and how respondents currently feel about their financial future.
Conducted in January 2021, Franklin Templeton's Retirement Income Strategies and Expectations (RISE) survey highlighted the stresses many people feel about their finances and retirement, although different generations have different concerns as well as priorities.1
Kickstarting Good Financial Habits
The potential for extreme financial hardship is still a concern for many people, which isn't a surprise given how the COVID-19 crisis heightened financial stresses for many individuals. The ability to handle unforeseen expenses as well as day-to-day expenses were cited as top drivers of stress for younger Americans, which we believe demonstrates the importance of starting financial planning early.
For Americans closer to retirement age and those already retired, worries about outliving assets/running out of money was seen across each cohort. These findings illustrate the need to engage with individuals around financial wellbeing early and meet them where they are—including but not limited to debt management, budgeting, loan repayment programs, emergency savings accounts and health savings accounts.
The tension between short-and-long-term financial-related needs can also be seen where individuals identify their current financial priorities. Having enough emergency savings to cover unexpected expenses was cited in our RISE survey as a high priority, and interestingly, it continues to increase as individuals age. Paying off debt is also a top priority for unsecured debt (which accounts for items like student loans and credit card debt) coming in a little higher than secured debt (mortgages, etc.). See chart below for more findings in this area.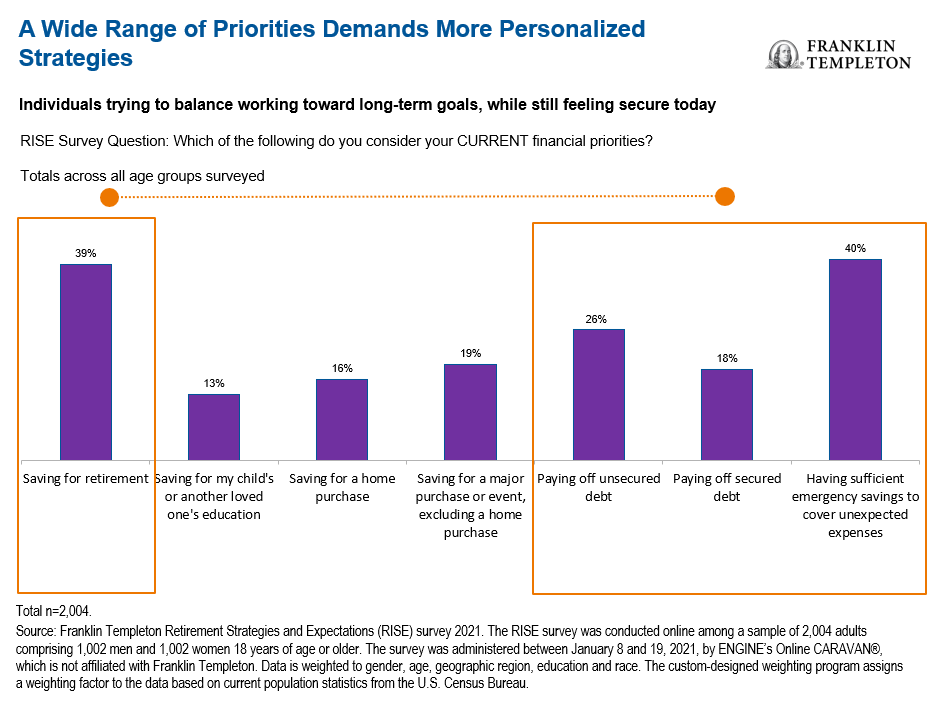 It's not surprising that saving for retirement plays a bigger role as individuals age, but many middle-aged respondents stated it just isn't a current priority. It's rather disconcerting that 37% of all age groups surveyed have nothing at all saved for retirement, further underscoring the challenge in having competing savings goals and priorities.