Why Gold's Losing Streak May Soon Turn Around
The gold market enters trading for the month of November on a losing streak. Can bulls finally turn things around?
Their first test will be to defend the line of support established from the September and October lows. Although the gold market registered a seventh consecutive monthly decline in October – marking its worst string of monthly losses in 50 years – daily prices didn't actually break down to new lows for the year.
Despite another losing month, downside selling pressure appears to be fizzling out. Gold prices have been consolidating within a narrowing range over the past several weeks and have even popped above the downtrend line today (November 1).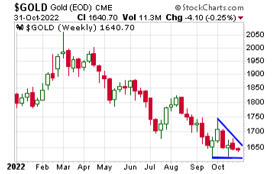 A decisive breakout above the consolidation range under $1,750 would carry bullish implications heading toward year end, while a violation of support at $1,600/oz could trigger another wave of selling.
Gold bulls might find some encouragement in the silver market, which is showing some relative strength. Silver's consolidation pattern, unlike gold's, shows an uptrending support line.
As long as silver continues to trade above its low from late August, it will continue to show a positive divergence versus gold. When silver leads, that generally a bullish a sign for the precious metals space.
Of course, the silver market still has some work to do in order to establish a meaningful uptrend. For now, it remains rangebound with a slight bias to the upside. A strong close above $21 would point to a new uptrend.
The primary fundamental impediment to higher metals prices is the lack of any respite from Federal Reserve rate hikes. The Fed has embarked on its most aggressive tightening campaign in decades. And as of yet, Fed policymakers haven't signaled that they intend to let up.