Will the French Election Prove Revolutionary?
SUMMARY
Will the French Election Prove Revolutionary?
A Tax That Almost Everyone Likes
Two Key Emerging Markets Work Through Rough Patches
The French take great pride in the uniqueness of their culture, which was once their leading export. But there is nothing particularly French about French politics these days. The country has been afflicted by the same malaise that has caused the rise of populism across the developed world. A potent combination of industrial decline, high unemployment, worries over immigration, and a perceived loss of identity have eroded faith in the status quo.

In something that would have come as a shock just six months ago, both a far right and a communist candidate have a fighting chance at occupying the Élysée Palace. And that prospect has world markets on edge. When France goes to polls for the first round of its presidential elections this weekend, voters will weigh in not only on the future of France, but potentially the future of Europe and its currency union.

Most simulations of the two-round French process predict that independent candidate Emmanuel Macron, a pro-European free-market centrist, will most likely emerge as the winner. Before Macron took his current lead in the polls, the center-right euro-skeptic François Fillon was the leading candidate for the presidency. Though a corruption scandal has taken the wind out of Fillon's sails, he still has a realistic chance of winning.

The markets are most concerned by the prospects of the far right candidate Marine Le Pen, who has promised to hold a referendum on France's membership in the European Union and the euro (and by implication, engineer the redenomination of a large chunk of French public debt into a new local currency).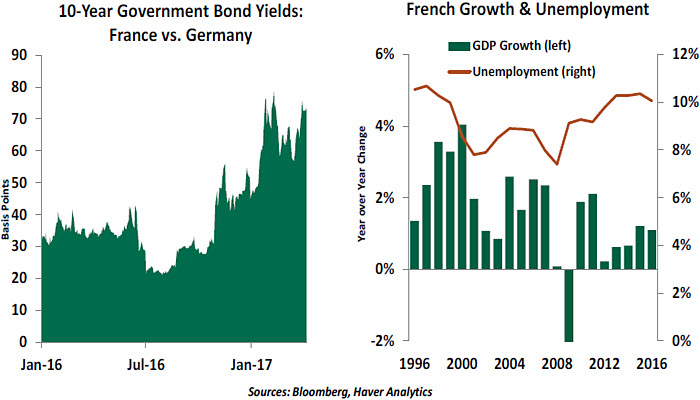 Closely following her as a "tail risk" for markets is the far left candidate Jean-Luc Mélenchon, who has promised to raise the top marginal tax rate to 100%, ignore the EU's fiscal rule, and rethink the "legitimacy" of French public debt.

In a race where the top four candidates are polling within a few percentage points of each other, trying to predict a winner is a fool's errand. (Given the poor performance of pre-election polls prior to the Brexit vote and the U.S. election, these readings need to be used with caution in any event.) But we think that the prospects of a doomsday scenario are exaggerated.