Global Economic Outlook: Fourth Quarter Comeback
An overarching lesson from COVID-19 was just how connected the entire world is. The virus pulled down economies and disrupted linkages between them. This year has been a year of recovery, but global linkages continue to present challenges.
Every nation is dealing with complications from supply chain disruptions. Exporting nations are struggling to keep factories working amid viral outbreaks, while ships to haul away finished products are stuck, waiting to unload earlier shipments. Importers cannot find capacity in ports, trains, trucks and warehouses to bring goods to eager consumers. As supplies fall and demand stays steady, prices rise, adding to inflation worries.
Energy is the latest global challenge. As the northern hemisphere prepares for winter, supplies of natural gas appear limited. Oil prices continue to rise—an unwelcome cost to businesses and consumers. This is another near-term inflationary force.
The third quarter brought challenges from COVID-19, which forced some nations to return to localized shutdowns and quarantines. These had important downstream impacts on growth. With COVID-19 in retreat, the outlook for the fourth quarter and beyond is positive. But the recovery remains uneven. Following is our outlook on how major economies are poised to perform.
United States
The recovery in the U.S. labor market has been disappointing. The September jobs report featured an encouraging headline unemployment rate of 4.8%, but this has been driven down by lower labor force participation. Job creation was impaired by slow hiring in the education sector. Progress against COVID-19 and the expiration of temporary stimulus will maintain momentum and bring more people back to work in the months ahead.
Policy uncertainty is a growing complication. The nation narrowly avoided a government shutdown and technical default, with only temporary extensions into December. Large legislative packages are being negotiated. Meanwhile, the leaders of the Federal Reserve are under scrutiny, and Chair Jerome Powell's reappointment has come under question just as the Fed prepares to taper its asset purchases. A steadier outlook from Washington will support a steadier recovery.
Eurozone
Global challenges are especially pronounced in the eurozone. The region has limited supplies of natural gas and is dependent on imports, especially from Russia, for this essential source of heat and electricity. Meanwhile, the manufacturing sector, especially automobiles in Germany, continues to struggle with supply interruptions. Measures like the Purchasing Managers Index and ZEW survey of economic sentiment show increasing worries about production.
Domestic demand remains strong, with an ongoing employment recovery and broad return to work as vaccination is supporting immunity. Despite rising inflation risks, the policy outlook is steady, with the European Central Bank adjusting its Pandemic Emergency Purchase Program to transition into a steadier state.
United Kingdom
As we have discussed, challenges are accumulating for the U.K.; Brexit left the nation especially sensitive to the supply challenges spreading around the world. Shortages at petrol stations are the clearest example of constraints of both supply and labor. These problems have no ready answer, and an interval of slower growth and higher inflation is assured.
Encouragingly, labor markets are transitioning well following the expiration of the furlough program, with a continued employment recovery. In light of recovering employment and rapid inflation, the Bank of England has signaled it is ready to normalize policy, leading other developed market banks. We expect two rate increases to bring overnight rates to 0.50% by the end of 2022 and will continue to closely monitor policymakers' statements.
Japan
Japan recently began lifting restrictions on activity. Domestic demand will remain supportive of continued growth. Production and exports are challenged by global logistics bottlenecks, but the recovery will continue; uniquely among advanced economies, Japan has been less impacted by inflation.
New Prime Minister Kishida Fumio took office in October. While he rose through the ranks of the party of Abe Shinzo, he has alluded to a more receptive stance to redistributive policies than the competition-focused push of Abenomics. No near-term policy changes are expected as Japan first prioritizes working through the disruption of COVID-19.
China
Worries about China are resurgent, with growth falling flat in the third quarter. In September, concern about China's overleveraged property sector took hold as Evergrande fell into distress. The government has a vested interest in protecting domestic investors, and the likelihood of state intervention helped to calm global markets.
Supply chains and energy rationing are weighing on China's production capacity, further complicating an outlook for external demand that was marred by trade conflicts. The U.S. has maintained an aggressive stance against China's trade practices; the tensions that preceded the COVID-19 interruption were never resolved. We anticipate a slower growth trajectory as China enters a new phase in the global economy.
Global Economic Forecast - October 2021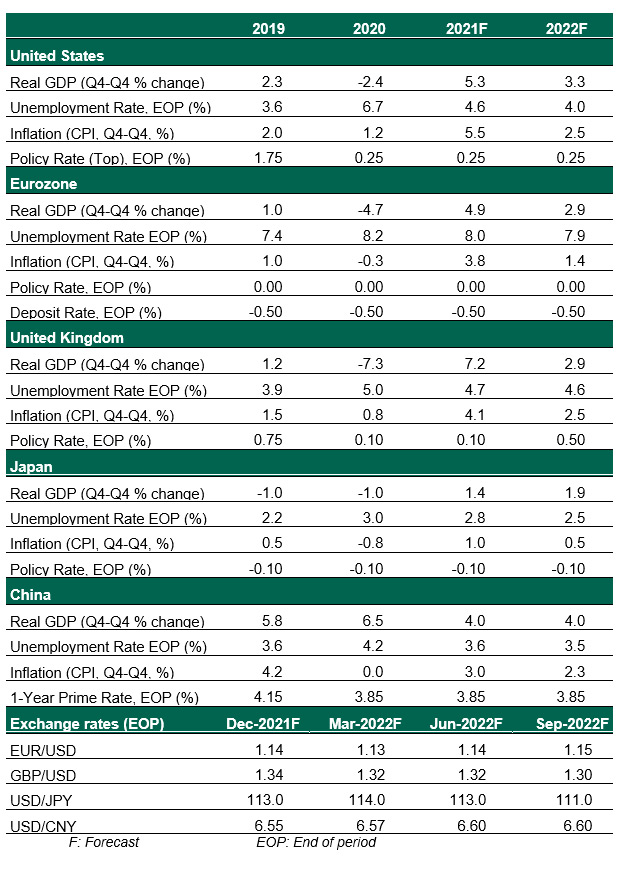 Information is not intended to be and should not be construed as an offer, solicitation or recommendation with respect to any transaction and should not be treated as legal advice, investment advice or tax advice. Under no circumstances should you rely upon this information as a substitute for obtaining specific legal or tax advice from your own professional legal or tax advisors. Information is subject to change based on market or other conditions and is not intended to influence your investment decisions.
© 2021 Northern Trust Corporation. Head Office: 50 South La Salle Street, Chicago, Illinois 60603 U.S.A. Incorporated with limited liability in the U.S. Products and services provided by subsidiaries of Northern Trust Corporation may vary in different markets and are offered in accordance with local regulation. For legal and regulatory information about individual market offices, visit northerntrust.com/terms-and-conditions.