Consumer debt increased more in 2021 than in any year since the global financial crisis. Additional borrowing can sometimes be a sign of trouble, but we see this as constructive for continued economic recovery.
Credit balances, especially for revolving debt, are expected to fall in recessions as consumers default on their credit obligations following job losses. Difficult circumstances force consumers to prioritize payments, often leaving their unsecured credit cards to go unpaid.
But as the COVID-19 crisis unfolded, credit card balances fell for new reasons. Consumers received stimulus payments, and those who were jobless received expanded unemployment benefits. With fewer opportunities to spend, surveys found that the most common use of stimulus payments was to repay debt. Even as spending rose, elevated savings allowed consumers to spend without incurring higher debt.

As 2021 closed, however, credit card spending was back on the rise. Credit card balances have been increasing since the first quarter of 2021, rising in the fourth quarter at a rate not seen since 2000. The rapid rise in balances in the fourth quarter suggests consumers are returning to old spending and borrowing behaviors.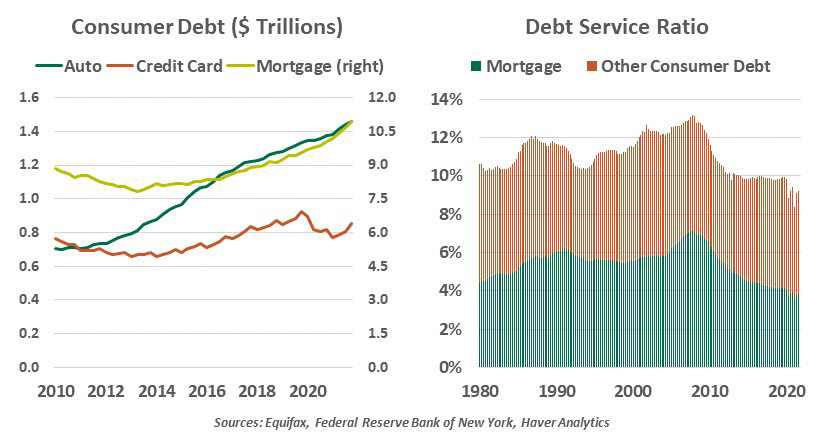 Consumer balance sheets are generally healthy, allowing room for additional leverage.

Cards were not the only type of credit to see growth in the pandemic. Surging house prices have pushed up borrowing for home purchases and cash-out refinancing. Automotive loans also grew as vehicle values rose. Amid limited new car inventories, up to 80% of new car sales are above the vehicle's sticker price. The high cost of used vehicles is also pushing up the value of used car loans.