The most rapid portion of the recovery is behind us, but the U.S. economy is still in high gear. Job openings are plentiful, wages are rising, and consumers are still willing to spend. However, persistent inflation and the policy response to it are raising fears that economic momentum may soon run out.
The Federal Reserve has gone from being humble to nimble to expeditious in recent months. At the May meeting, it ramped up its fight against inflation and vowed to continue to do so at pace. Markets have underperformed as they digest this new Fed orientation: Interest rates have marched higher and equities lower over the past few weeks. Unlike the previous tightening cycle, the speed of this recovery has taken away the Federal Reserve's option to hike rates gradually and deliberately.
The risk of a hard landing this year is low. But tighter monetary and fiscal policy, coupled with lasting supply-side bottlenecks, could dampen next year's growth prospects.
Key Economic Indicators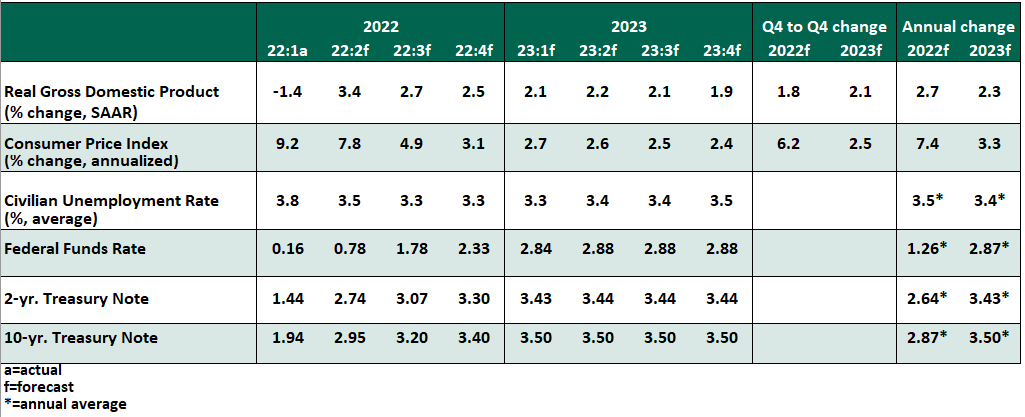 Influences on the Forecast
Real gross domestic product (GDP) in the first quarter surprised to the downside, contracting 1.4% on an annualized basis. A large trade deficit proved to be the biggest drag on growth, alongside slower inventory accumulation. But the rest of the report showed an otherwise healthy economy. High inflation didn't dampen consumer spirits, as spending increased at a 2.7% annualized rate, led by a shift from goods to services. Business and residential investment also grew nicely.
Inflation may have finally peaked, after reaching its highest rate in four decades. The headline consumer price index (CPI) increased at a slower monthly pace in April, as energy prices reached a plateau. However, the core measure gained more momentum. Airfares jumped 18.6%, in April driven by higher fuel prices and continued demand from reopening. Measures of shelter costs are elevated and are likely to stay firm throughout the year. On the other hand, supply-driven inflation of goods may be cooling, at least for now.