Holiday Shopping Season: What Recession?
The holiday shopping season in 2021 was a big hit, with Americans spending freely as they emerged from the shadows of COVID-19. Heading into the 2022 holidays, the question on most observers' minds was: will shoppers flock to the stores, or is a there a recession in store?
The holiday season is important for retailers (accounting for 25% or more of annual sales) and in turn for the economy. Despite higher prices for almost everything from food to gas and ongoing speculation of a recession, Americans remained upbeat and active. The Conference Board's Consumer Confidence Index jumped to its highest reading in eight months in December. According to data from MasterCard SpendingPulse, sales from November 1 to December 24 rose 7.6% in nominal terms. The National Retail Federation expects U.S. holiday retail sales to have grown by 6-8% year over year in 2022.
While e-commerce spending remained strong, Americans also shifted back slightly to spending at brick and mortar stores for a more traditional holiday shopping experience. In-store sales grew 12% year over year on Black Friday. Traffic in stores rose 7% over the same time period. All these are signs that the U.S. economy closed the year positively.
Current spending patterns are not consistent with an imminent downturn. Average sales for October and November still point to a robust contribution to gross domestic product growth in the fourth quarter from consumer spending. Americans are still splurging on services, underpinned by still-robust labor market conditions. Higher airline spending implies a shift from holiday gifts to trips and leisure. Consumption will continue to underpin the economy if the labor market stays tight.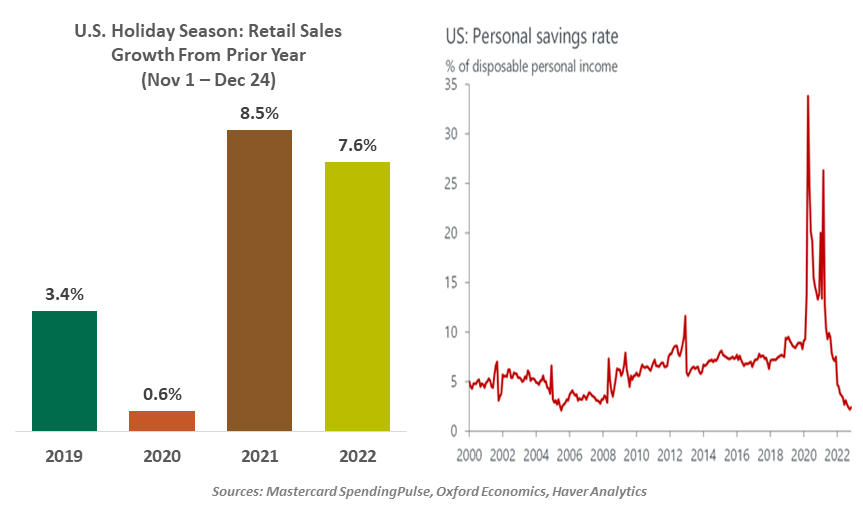 American consumers had a happy holiday season.
Beneath the bustle reflected in the headline numbers, there are signs that Americans are becoming more cautious. The November retail sales report showed consumers dialed back spending on big-ticket discretionary items such as furniture, electronics, clothing and sporting goods.