European Outlook: Less Downside Now, But Caution Still Warranted
In recent weeks evidence has mounted that the eurozone economy is proving resilient in the face of large shocks from higher energy prices and tighter financial conditions. After hitting a low of around 47 in October, the Eurozone Composite PMI climbed back to over 50 in January (see Figure 1), pointing to stagnation rather than outright contractions in activity.
German industrial output, meanwhile, rose in November despite large falls in new orders during the month, reflecting the large order backlog built during the pandemic period. Impressively, the release of the preliminary German annual GDP print for 2022 implies that the economy expanded slightly in the final quarter of 2022, against broad-based expectations of a decline until recently.
Figure 1: Eurozone PMI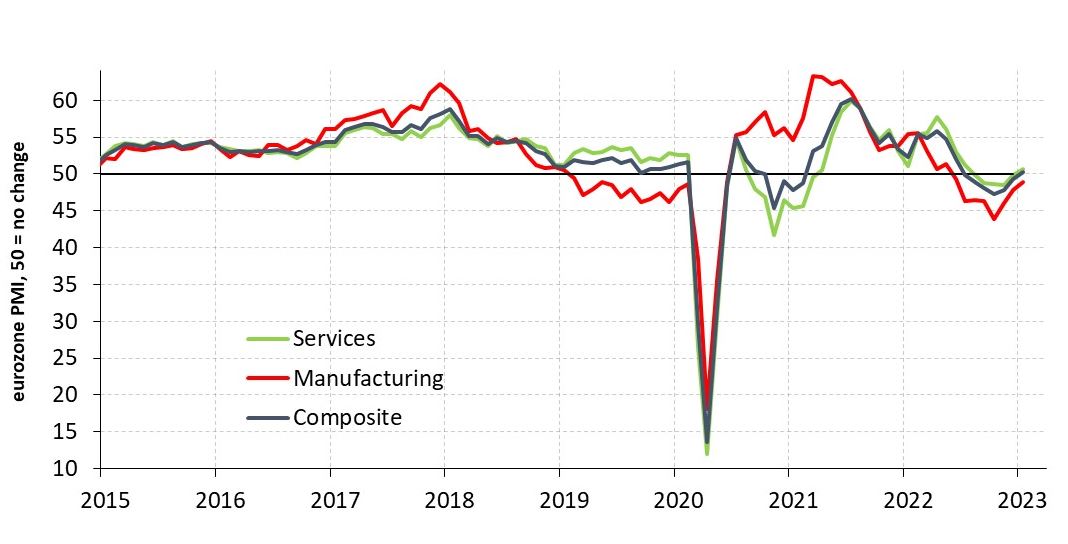 Image Pop Up
Source: PIMCO, Markit. As of 24 January 2023.
While the precise drivers of this resilience are unclear, we would point to the following factors: production being supported by significant pent-up demand and order backlogs from the pandemic period; pent-up household savings cushioning the blow from higher inflation; resilient labor markets, likely reflecting corporate caution over staff dismissals, given recent global labor supply shortfalls; and finally, a sharp turn in wholesale gas prices softening the energy price shock on households and, especially, corporates.