One Year of War in Ukraine
On February 24, 2022, Russian forces rolled into Ukraine. Some forecast a brutal but short campaign; however, one year later, there is no end in sight to the conflict. The situation remains a key risk, both economically and geopolitically.
Ukraine has withstood the largest military aggression in Europe since World War II. The war has inflicted immense humanitarian suffering on its people. According to United Nations data, at least 8,000 Ukrainians have died, over 13,000 have been injured and 14 million (one-third of the population) have been displaced from their homes.
Prior to the conflict, Ukraine was one of the poorest nations in Europe. In three decades of independence, Ukraine's economy has suffered hyperinflation, financial instability and severe recessions. The war has made a bad economic situation immensely worse.
According to World Bank estimates, the number of people living in poverty in Ukraine increased ten-fold in 2022. Waves of missile strikes targeting energy and other critical infrastructure have caused long power outages, impairing industrial activity. The agriculture sector has also suffered severe losses, with many granaries wrecked and large areas of arable land turned into minefields.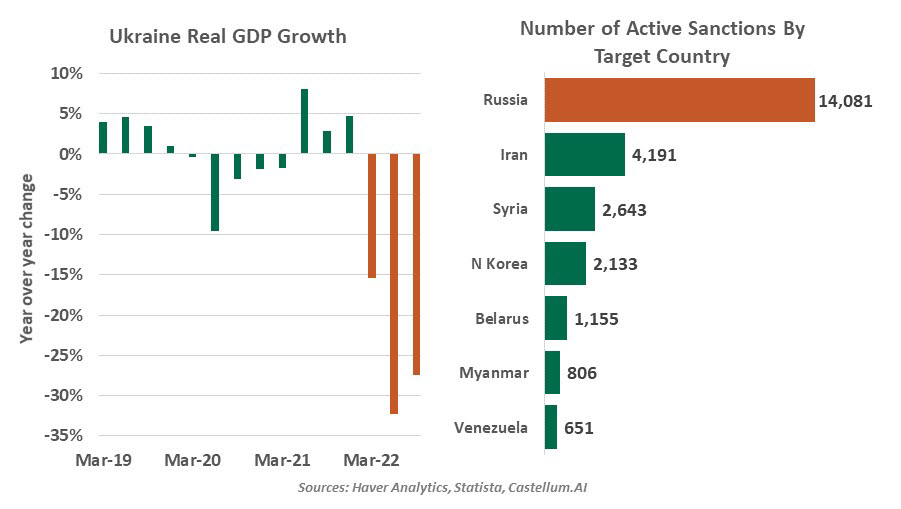 The blockade of the country's seaports has led to a sharp fall in exports. According to economy ministry data, Ukrainian exports fell by over a third in value and volume in 2022 owing to limited access to Black Sea ports.
The crisis has caused massive budgetary problems. Kyiv has been forced to divert huge amounts of funds to defense spending, which soared a whopping 818% and accounted for 42% of total fiscal expenditures from January through November 2022. Kyiv is relying heavily on foreign grants and loans to cover an expected $38 billion budget deficit and keep the economy afloat. International financial assistance accounted for 23% of Ukraine's fiscal revenues last year. Inflation has surged to 26% year over year, bringing more misery to already troubled citizens.
Overall, Ukraine's economy has suffered its sharpest decline in more than 30 years. Gross domestic product (GDP) plunged 30% in 2022 and is expected to shrink further this year.
The conflict has delivered a major shock to Ukraine and a sizeable blow to Russia.
Russia's actions brought about a strong response from the international community. The U.S. and its partners have organized the largest set of sanctions and export restrictions ever imposed on any major world economy. America alone has implemented or expanded over 2,000 sanctions and more than 375 export control Entity Listings. Russia is now the world's most sanctioned country, with over 14,000 limitations imposed on its individuals and corporations. The restrictions are preventing access to critical inputs and technologies, affecting Russia's ability to prosecute the war.
Over 190 international companies have exited Russia since the start of the war. Imports of a range of Russian goods into the U.S. are now subject to higher tariffs. Russian equity markets are 30% below pre-war levels.
Despite all of this, Russia's economy has avoided the deep debacle some had predicted for it. Most western nations have either imposed an import ban or cut their reliance on Russian oil and gas; however, these commodities have made their way into energy-starved emerging markets like India and China — albeit at discounts relative to market prices. Economies accounting for more than 30% of global GDP continue to trade with Moscow, preventing economic isolation. A rising number of countries have also been settling trade in rubles, bypassing financial sanctions.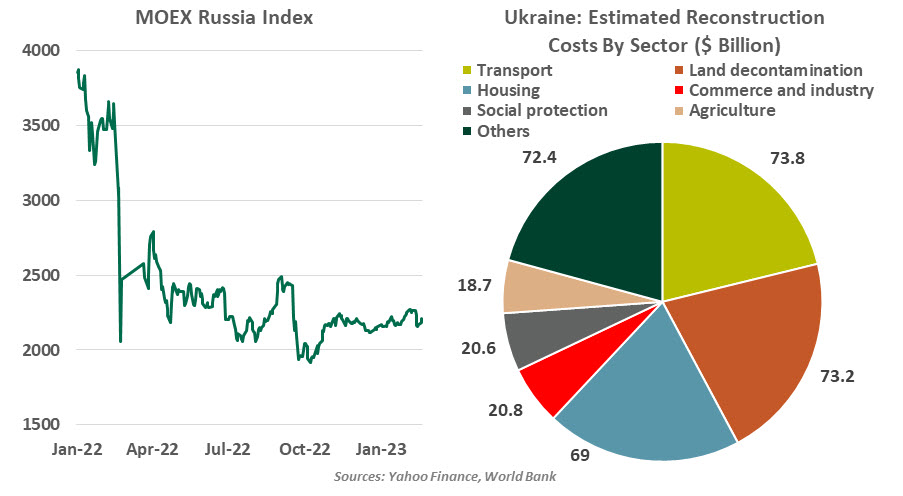 The Russian economy contracted by 2.2% last year, only a fraction of the 10% decline estimated in the first month of the war. The International Monetary Fund expects the Russian economy to grow faster than the U.K. this year and next, further raising questions about the effectiveness of corrective sanctions in a globalized world.
The economic consequences from Russia's invasion have been global. Europe has suffered the most, dealing with rapidly rising gas prices for most of 2022. The war has cost an average British household an extra £1,000 in higher energy bills over the last 12 months. European economies, large and small, have been facing the highest inflation in decades, which has forced central banks to raise interest rates.