India Seeks More Manufacturing
Recently, we penned a note on how the Mexican economy is poised to benefit from shifting trade winds as global corporations reevaluate the risks of relying on Chinese workshops. But the Latin American heavyweight isn't the only destination for investment. India, the world's fifth largest and fastest growing major economy, aspires to be a viable contender for relocated global manufacturing and sourcing.
COVID-led supply chain bottlenecks, war disruptions and export restrictions have led firms to diversify suppliers and manufacturing locations. India's policymakers are acting on this unprecedented opportunity by moving to attract new manufacturing business.
India's recent business-friendly efforts include:
· The "Make in India" campaign, which aims to increase the share of manufacturing in the country's gross domestic product (GDP) and promote the growth of domestic industries.
· Establishing several special economic zones, which offer tax incentives, easier laws and expanded infrastructure.
· Slashing the corporate income tax rate from 30% to 22%.
· A $26 billion production-linked incentive plan that invites foreign investment in 14 manufacturing sectors and promotes partnerships with local manufacturers.
India's appeal to potential investors goes deeper than just government-offered incentives and subsidies. The country has the advantages of a readily available workforce and low-cost labor. It enjoys close economic and political ties with the major demand centers of the world, an increasingly important consideration for businesses as global tensions rise.
The red carpet is starting to attract new activity. Foreign direct investment inflows have doubled to $83 billion since the launch of the 'Make in India' initiative in 2014. Apple has already shifted production to India and plans to triple its output there in the next three years. India's defense and aerospace industries are coming of age, with domestic conglomerates entering into joint ventures with global players to manufacture aircraft.
Despite these anecdotes, it is too soon to say the policy shift has been a victory. Manufacturing's share of India's GDP has only marginally increased in the past three years and has fallen from 15.1% in 2014 to 14% today. Plans for major infrastructure investment have not broken ground, and India's poor infrastructure is a major roadblock to manufacturing growth. Domestic transport of goods remains slow and expensive when compared with the standard set by China, which has invested billions of dollars into transportation in the last two decades.
India could struggle to emerge as a major manufacturing hub.
Stringent labor laws, the lack of a skilled workforce and remaining regulations make the country an unattractive destination for many firms considering their options for long-term investment. Close to 2,800 foreign companies and their subsidiaries ceased operations in India between 2014 and November 2021.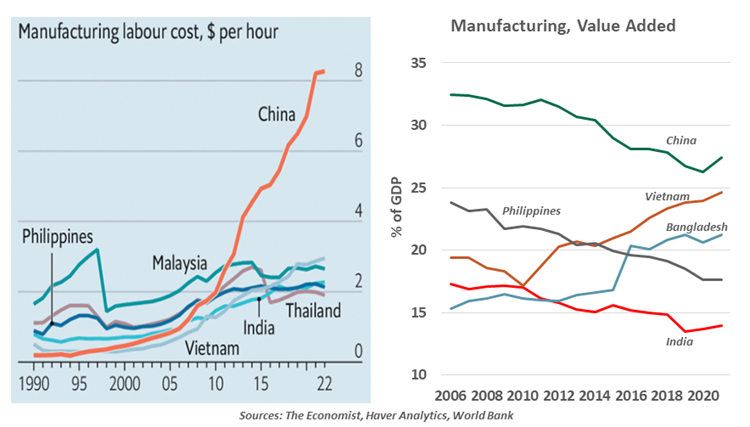 India aspires to become a manufacturing powerhouse, but its policies aimed at protecting domestic businesses are countering the objective. India's average import duty has been increased significantly in the past few years, preventing better integration into global supply chains.
All these factors explain why India is not a major center for manufacturing yet, and is unlikely to become one anytime soon. Countries like Vietnam are giving India a run for its money in wooing global corporations by offering favorable corporate tax rates, fewer regulatory restrictions and a less volatile currency.
To capitalize on its demographic dividend, India's economy needs to become better at generating employment. This goal cannot be attained without growth in the manufacturing sectors. Expanding the industrial base will create more opportunities, but may not improve fortunes for India's less-skilled workers. Modern plants are highly efficient, and many of those working within them have advanced skills.
The opportunities for India from reshoring are immense, but so are the stakes. Manufacturing must play a larger role if the country wants to become rich before it grows old.
Information is not intended to be and should not be construed as an offer, solicitation or recommendation with respect to any transaction and should not be treated as legal advice, investment advice or tax advice. Under no circumstances should you rely upon this information as a substitute for obtaining specific legal or tax advice from your own professional legal or tax advisors. Information is subject to change based on market or other conditions and is not intended to influence your investment decisions.
© 2023 Northern Trust Corporation. Head Office: 50 South La Salle Street, Chicago, Illinois 60603 U.S.A. Incorporated with limited liability in the U.S. Products and services provided by subsidiaries of Northern Trust Corporation may vary in different markets and are offered in accordance with local regulation. For legal and regulatory information about individual market offices, visit northerntrust.com/terms-and-conditions.